Post by cor on Mar 22, 2018 8:46:06 GMT
moin, moin .... mit freundlicher genehmigung von Johan van Zanten kann ich sein Damastmesser WIP hier einstellen einige kennen seine arbeiten aussem KKF oder dem CKTG Forum. ich hab grade noch nicht die grosse ambition das ins deutsche zu übersetzen, wird aber nachgeholt
---
Hello everybody,
In this thread I will share with you the forging and making of three chef's knives. All three of them will be the "Van Zanten 220" model, a 220 millimeter chef's knife, very light weight, just under 200 gram. The grind will be a double hollow, it cuts very easily and has good food release. Over sharpening life the blade remains thin at the edge.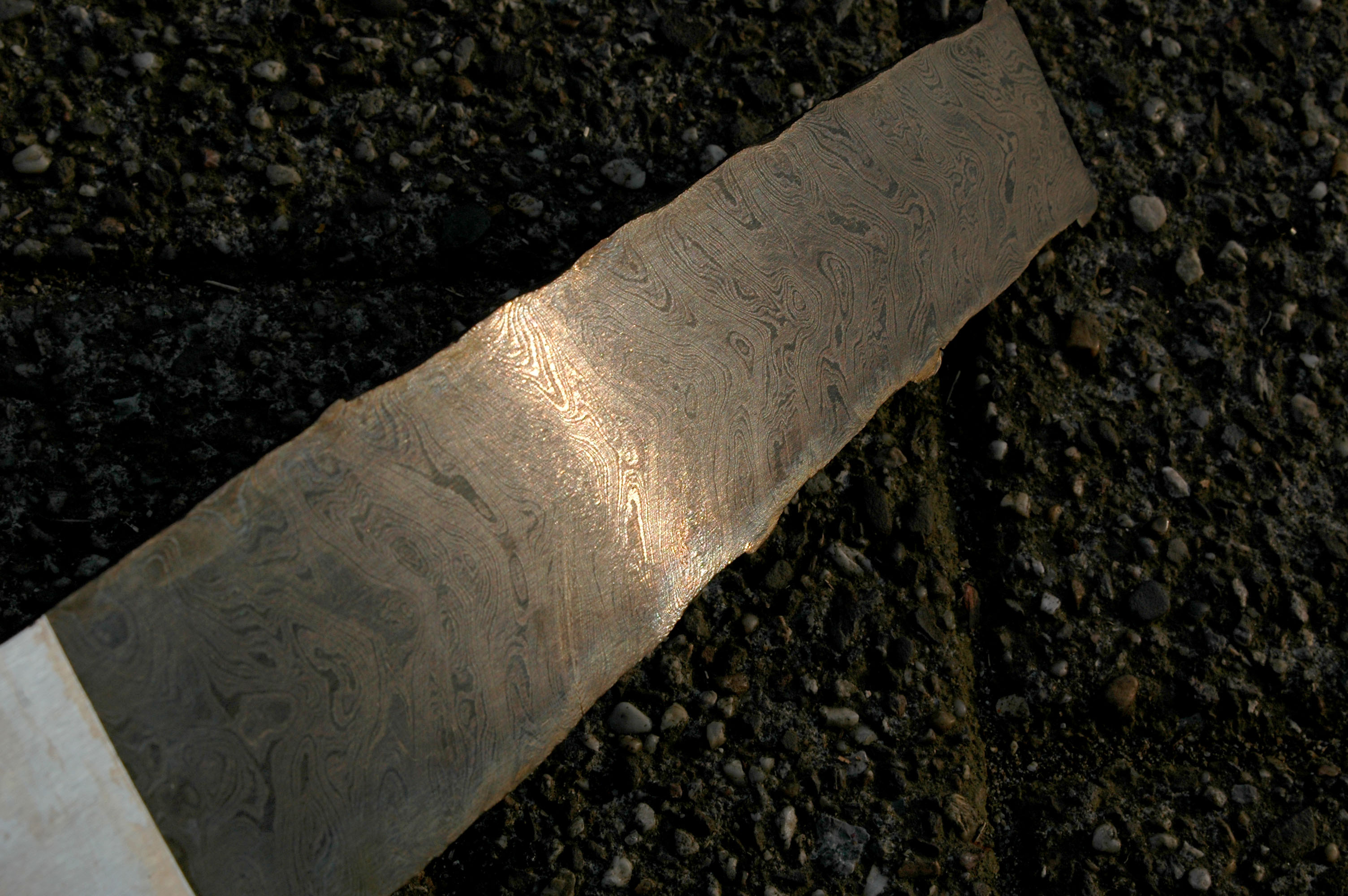 I started yesterday forging this piece of damascus. It is a random-type variation on a chevron ladder. It is made from the same three types of steel as the picture below.
From this picture on I will start with the WIP. For the damascus I use three types of steel, the first steel; 1.2842, in USA known as O2, is a high carbon tool steel with manganese, the manganese colors black in the damascus. The second steel is 1.2442, this steel is very difficult to obtain and has high carbon and some tungsten in it. This steel has a very fine grain and is very tough when hardened. The tungsten makes it very suitable for kitchen use. It colors grey. The third steel is 75Ni8, very similar to 15N20, it colors "silver". This steel is used in industry for wood cutting blades.
I have ground the oxides of the steel and here I'm cutting it on the bandsaw.
Here is the first stack. It has 18 pieces in it. Some steels are in groups of 4 or 3 to create thicker lines in the end result. I'm shooting for a feather pattern with torsion stars in it. This is my first attempt at this pattern, so fingers crossed.
The billet MIG welded at the ends.
The forging area.
The billet goes into the forge at 1250 degrees Celsius.
Fluxing the billet with anhydrous borax.
After welding the billet and elongating it with the hydraulic press.
The billet has cooled down slow in order to form pearlite, which is soft. Now I can cut the ends of with the bandsaw.
The shaping machine, cutting the faces flat.
Chips from the shaper.
18 layers of tool steel, machined flat.
That's it for today. I hope you enjoy the WIP.
---
PART 2 :
Today I have been working some more on the damascus.
Here is the previous bar cut up in four pieces.
Here is the new billet.
Halfway heating up.
Shaped clean, cut in two and re-stacked. I MIG weld the billet on the seams so I can get a clean weld, this way I don't have to use any flux.
Welded. Notice the thick MIG weld line in the middle.
Shaping...
A light etch to check the pattern.
Here I'm sawing the billet in 6 pieces.
Surface grinding the 6 pieces.
Milling a 45 degree angle on the pieces.
Milling
That's it for today. The next step is forging the torsion damascus. I'll put the torsion damascus in between these pieces.
---